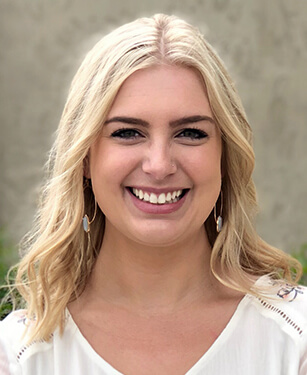 Stephanie W.
Packaging Development Engineer
Deerfield, Illinois
Employee Since 2016
Building a Career by Following Intuition
As a graduate from Michigan State University's School of Packaging, Stephanie could have taken her career in many directions. Having graduated from one of only 10 schools in the United States to offer a degree in Packaging, she had opportunities to work for a household name or consumer brand companies, but Stephanie wanted to do something more. She wanted to work somewhere she could believe in. So, she waited for the right position with the right company to come along. Today, Stephanie shares, "Waiting for this opportunity was totally worth it."
Ultimately, she chose Takeda because of the impact she could have on people's lives. "The packaging we develop isn't just for any product. They're products that are both life-changing and life-saving," she explains. For Stephanie, the work she is empowered to do every day clearly contributes to Takeda's mission. The well-designed packaging ensures medicines are protected and safely reach patients, so they can do what they're meant to do: help patients.
MAKING AN IMPACT WITH PRIDE
When asked about her proudest moment at Takeda, Stephanie didn't hesitate to share the story of how she helped contribute to a new product launch, which was the first of its kind and had special requirements the team had to address. Prior to launch, the production team identified a need for additional insight, therefore a special project team, which Stephanie was asked to join, was created.
For three weeks, Stephanie worked overseas alongside colleagues from Global Quality, Global Supply Chain, Global Distribution, and other business areas. It was "all hands-on deck," working long days to get the right packaging components, procedures and documentation in place for launch. Timing and quality of their work was of the utmost importance, as the product has a limited shelf life, and must reach patients within 48 hours after it's produced. "It was a really cool experience to be part of such ground-breaking work, as well as an opportunity to develop myself. I was able to see the first shipment leave the facility, which was incredibly rewarding."
"I see the Company's mission in my coworkers every day."
UNITED BY ONE MISSION
Stephanie's role is highly cross-functional and collaborative, which is necessary for success at Takeda. She works closely with departments throughout the company, in different parts of the world, and with external vendors and suppliers. No matter where her colleagues and partners may physically sit, they're all united by Takeda's mission of better health and brighter future. Stephanie says, "I see the Company's mission in my coworkers every day."
At Takeda, the team finds time for work and fun. Stephanie's team conducts Agile Charters," a company-driven initiative focused on improving how work gets done. "We look for ways we can change and make improvements for the better," she says. "We're empowered to innovate, pursue improvement, and look at initiatives that might fail. Even knowing they might not succeed, it's worth us to look at."
Stephanie and her colleagues are constantly communicating and connecting with each other--and that's not just through email. They also enjoy having fun together. From team volunteering for Habitat for Humanity and eating lunch together at the on-site cafeteria, to challenging one another to ping-pong in the innovation room, Stephanie appreciates the time spent with her team.
EMPOWERED TO REACH HER POTENTIAL
Working at Takeda is special. "I believe in our work," she explains. "Takeda genuinely cares about their employees. I feel like I am personally and professionally taken care of here." In this U.S. office, Takeda offers employee benefits and perks, such as flexible time off and holidays, on-site wellness classes, and tuition reimbursement, which is top of mind, as she's gearing up to pursue her MBA.
What sets Takeda apart goes beyond benefits. It's also about the opportunities Stephanie has to discover her true potential. Her leaders support her desire to build her presentation skills and encourage her to seek opportunities to hone them outside Takeda. They champion her participation in STEM (science, technology, engineering, math) programs for younger girls, where she visits classrooms and speaks to them about careers in science. She's even had speaking opportunities at her alma mater, Michigan State, where she talks to students currently attending Packaging courses. Stephanie expresses, "It's helped me build my confidence, which is important to me as a professional. I feel so supported by the people I work with at Takeda."