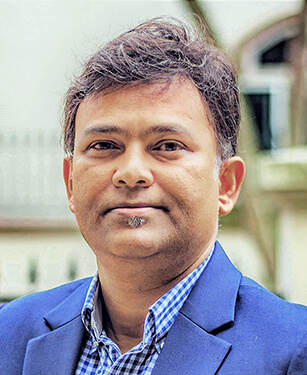 Kumar R., Ph.D.
Head, APAC, ICMEA, China - Vaccine, Market Access and Preparedness
Singapore
Employee Since 2015
Working with Passion to Turn Dengue Around
January 29, 2019, is a day that will forever shine as a pivotal moment in Takeda's more than 230-year history. It's also Kumar's proudest moment, thus far, while working at Takeda. On this day, Takeda announced the Phase 3 trial of its dengue vaccine candidate met the primary efficacy endpoint. As the company's largest trial to date, it showed the dengue vaccine candidate (TAK-003) was efficacious in preventing dengue fever caused by any of the four serotypes of the virus.
Just seven years earlier, Takeda had no vaccine presence outside of Japan. Now, because of the company's values, priorities, and the commitment from employees like Kumar, Takeda is working towards helping to meet the unmet needs of people around the world.
Passionately Committed to Public Health
In 2015, after following Takeda and observing the work of Rajeev Venkayya, M.D., President of Takeda's Global Vaccine Business Unit, Kumar was happy to join the Takeda Vaccines team. "I was attracted to the very entrepreneurial, biotech approach Takeda and the team are taking, allowing Takeda to be innovative and bold," shares Kumar. "The people here are passionate and we share a philosophy that vaccines are a public health need requiring broad access, not simply a revenue-focused product." To Takeda, he brings a unique experience of market understanding in the pharmaceutical, specialty, and vaccine business, and how best to leverage strategies to allow for effective local adaptation.
About 50 percent of the world's population lives under the threat of dengue. The disease is responsible for approximately 390 million infections globally per year. A fast-spreading, mosquito-borne viral disease, it can infect people of all ages and is a leading cause of serious illness in children in some Latin American and Asian countries. As Head of Asia Pacific (APAC) Vaccines for Takeda, Kumar is responsible for building organizational capabilities to enable readiness of Takeda's anticipated first global vaccine in key countries in the APAC region, as well as leading initiatives of Takeda's vaccine models in Indonesia and India.
"The people here are passionate and we share a philosophy that vaccines are unique. Ensuring broad and rapid access requires bold and innovative approaches to this critically important public health need."
Overcoming a Global Health Threat
There are massive challenges in fighting dengue. People have been exposed to other medicines; some are dying, while others are delaying or refusing vaccines. Overcoming these challenges, along with facing what is referred to as "vaccine hesitancy" takes a multi-prong approach. The World Health Organization (WHO) lists dengue and vaccine hesitancy as two of the 10 threats to global health in 2019. They define it as, "the reluctance or refusal to vaccinate despite the availability of vaccines," and state that "1.5 million (deaths) could be avoided if global coverage of vaccinations improved."
"When I engage with key stakeholders, I try to learn and understand their concerns and needs. Dengue is different, and a viable vaccine and creating access to it is of keen interest," says Kumar. "From Shanghai to Chennai, Hong Kong to Hyderabad, I have extensively traveled the region, and have the opportunity to interact with healthcare professionals and community workers. This allows greater understanding of vaccine program challenges. I listen to how they handle the hesitancy. This helps me stay grounded in a close-to-customer experience, and sparks my thinking on how best to drive vaccine uptake and coverage."
Takeda Vaccines' employees are turning dengue around. As a start-up inside Takeda's larger, global organization, the Global Vaccine Business Unit is a growing, collaborative team with an outstanding wealth of knowledge in vaccine development and manufacturing. They are motivated to advance a pipeline of vaccines to address public health needs. They are united by a shared vision and priorities. "We are a unique company in that we put patients first when it comes to all of our decisions. Then comes trust, our reputation, and the business," Kumar advises. "Many companies are not willing to put the business last. We believe that to do something right, you have to put the patient first."
Pursuing a Career with Purpose
Working in the pharmaceutical industry takes Kumar all over the world. Born in India, he came to the United States as a college student, where he earned a Ph.D. from the University of Mississippi, School of Business Administration and the School of Pharmacy, with a specific focus on Pharmaceutical Marketing. Prior to joining Takeda, he worked in a variety of pharmaceutical executive roles in the United States and China, and he even taught part-time at The Pennsylvania State University and Duke University. Currently, he and his family are living in Singapore.
Kumar's career is focused on the pursuit of his passion for patients. When he joined Takeda in 2015, there was no guarantee the dengue trial vaccine would be successful. Some people may say it was a risky decision. When asked what career advice he would give his younger self, he answers, "Always look for the opportunities to genuinely learn and grow. Do it because it's something you are passionate about, not necessarily just to get promoted. Ultimately you'll have a tremendous resume that will be hard to ignore."