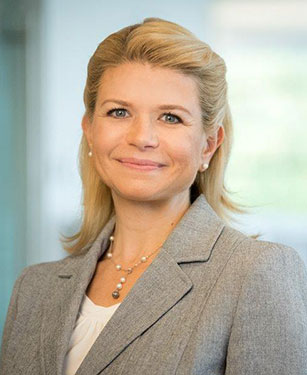 Jen C.
Chief of Staff and Head of Gastroenterology (GI) Therapeutic Area Unit General Operations
Boston, Massachusetts
Employee Since 2017 and previously from 2002 to 2010
Empowering Teams to Find and Choose Their Work Adventure
Jen describes herself as a "returning Takeda alum". She was drawn back to the organization because of Takeda's unrivaled patient focus. When asked what patient-centricity means to her, she says, "It's about putting the patient at the center of everything we do. Takeda is very rooted in our four priorities of Patient, Trust, Reputation, Business, or PTRB."
In her role as Chief of Staff and Head of Gastroenterology (GI) Therapeutic Area Unit (TAU) General Operations, she serves as the Chief of Staff to the TAU Head and manages three distinct teams: Global Program Management, Alliance Management, and Business Operations. She also manages special projects, which offer her ways to continually stretch and grow, a cornerstone of her own career journey and embedded in her management philosophy.
WALK THE PATIENT-CENTRICITY TALK
Employees here are called by our mission to deliver Better Health and a Brighter Future for people worldwide. "We all work to bring meaningful medicines to patients who could benefit from them and improve trust with society," explains Jen. "We have an opportunity to do that because of the clarity of our vision and mission."
For more than 230 years, Takeda has remained true to its heritage and mission. Jen feels the Company continues to grow because of its deep-rooted origins in medicine and unchanged Values. "We have a rich, deeply-steeped history with enduring values," she says, "intermixed with a very innovative, forward-looking, fast-paced culture, and everyone's behaviors reflect that." These Values inspire and motivate us to strive towards improving more lives in the future, with an unwavering commitment to patients.
"You can truly choose your own adventure."
PERSONALLY EMPOWERED AND TRUSTED
When reflecting on her career at Takeda, Jen is happy she feels trusted. "I'm constantly making judgment calls," she shares. "If it's a team or operational decision, I'm doing so with the freedom to operate." One of the most exhilarating experiences for her was leading a functional integration team. "It was challenging, and even though I had never led this type of effort before, I knew I was supported and encouraged by my team and the organization."
When it comes to personal growth, there is also a great deal of support. "There are countless opportunities," Jen expresses. "All you need to do is raise your hand and you will find things to be brought into. Every day is different. Nothing is routine." For Jen, Takeda's R&D home in the Greater Boston area presents countless opportunities for collaboration and partnership. She describes living and working in the area as incredibly diverse, energetic, and innovative.
SUPPORTING OTHERS TO FIND THEIR ADVENTURE
Our leaders are expected to lead, not micromanage. Jen says, "This philosophy empowers our people to grow, and encourages them to experiment, even if the outcome isn't what was expected. We ask ourselves, what could we do better? What did we learn?" She adds, "When the outcome is positive, we celebrate the accomplishment!"
When it comes to managing her team, Jen believes in supporting people's growth. "I am always looking for what their next step is. I'm constantly challenging my team to think about growth and opportunities, pushing them to be excellent and authentic in what they do. It's my responsibility to support and drive optimal performance with my team." As a manager, Jen encourages her team to ask themselves, "What's possible? And, if they see an opportunity to grab it."
Jen explains, "In R&D, there are a lot of opportunities. Leaders have a real willingness to help people move and grow. You can come in one role and realize you have additional opportunities to enhance your leadership journey. At some companies, it's hard to be mobile. At Takeda you can truly choose your own adventure."