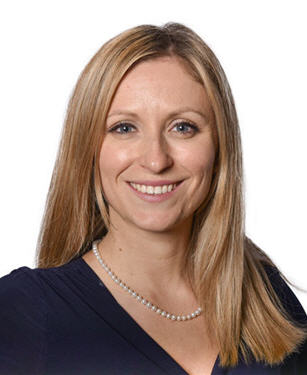 Tanja P.
National Market Access Manager, Oncology Business Unit
London, UK
Employee Since 2010
Helping Society While Growing Personally
When Tanja began her career with Takeda in 2010, as an MBA intern in marketing, she never imagined the effect that the company would have on her career and her life. Now, as a national market access manager in Takeda's Oncology Business Unit, she's focused on the increasing strain on public health care and the importance of access for patients; "It's a rewarding department to work for."
To learn more about how Takeda puts people first, Tanja shares her views on four ways she has experienced this in her own career.
1. Working for Patients
Patients are always at the heart of every decision, innovation, and process. The work is high-pressure but this makes it incredibly rewarding. Tanja and her team work closely with the medical team to understand forms of cancer and what new medicines can do. They talk with clinicians about how they treat patients and work with patient advocacy groups to understand patient interests and how the disease is perceived—tying this as close as possible to the realities of the United Kingdom. This culminates in negotiations with the government about value and cost that leads to funding. "At the end of the day, if this goes well, you provide a new medicine to patients with cancer. There's nothing better than that."
2. Creating Value for Society
Tanja works hard to forge relationships with government organizations, like the National Institute for Health and Care Excellence (NICE) and the National Health Service (NHS), so negotiations can be successful to enable society to have access to innovative medicines. "Our main goal is to give patients access," explains Tanja, "We are successful if all people can benefit from a potentially life-saving medicine." This contributes to Takeda's reputation of being a good partner to work with and that goodwill builds trust for future negotiations.
3. Exploring for Personal Growth
Having started her career at Takeda Canada, Takeda has provided Tanja the opportunity to grow her career while working in Zurich and now, London. As a self-proclaimed, "huge traveler," Tanja loves living in Europe. "There's something alluring about being able to jump on a train and visit another country." Takeda provides numerous opportunities for employees to move within the company and supports individuals throughout the expat process. While not always easy, Tanja encourages people to consider relocating abroad, "It's worth it in the end and opens your horizons about how the company, departments, and different countries operate. That experience has added significantly to my approach to working."
4. Empowering Intellectual Advancement
Takeda takes professional advancement seriously and encourages people who want to be developed. Tanja is currently pursuing a Master of Science in Health Economics parttime and the company has allowed her to work a four-day workweek to accommodate her studies while also supporting her financially. "The company is making an investment, but they are benefitting because what I am learning is contributing to my work and the priorities of the company." They were equally supportive when she wanted to get involved in market access. She had no experience in access but was able to leverage her capabilities and experience in business and strategy to adapt to the role, and, "The team put the time and energy into training and developing me in this intellectually-stimulating role and I think this might be my calling."
"We are successful if all people can benefit from a potentially life-saving medicine."