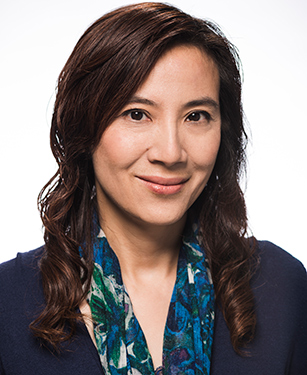 Rebecca Y.
Vice President, Market Access & External Affairs
Ontario, Canada
Employee Since 2017
How One Leader Empowers Her Team on the Journey
While new to Takeda, Rebecca Y. is no stranger to the healthcare and pharmaceutical industries. Her career has taken her from a practicing clinical pharmacist to government affairs to the head of the innovation lab for a household brand name. Rebecca considers herself to be a disruptor, an entrepreneur, an innovator, and a believer. And, she's able to be all of those in her leadership role as Vice President, Market Access and External Affairs at Takeda Canada.
Building an Inspiring Team
"I know that I need to work in a place where I can grow and be challenged, and what motivates me the most is to make a difference." While it was hard to leave her previous team behind, "coming to Takeda was the right decision and I am happy here," she shares. And, Rebecca wants to hire others who want to make an impact and will be ambassadors for the company. Shortly after joining Takeda, Rebecca hired a new team and she reflects that, "I've recruited top talent, and great people gravitate to great people. There is a lot of collaboration happening here and we're helping to extend Takeda's presence in Canada."
"I think what we offer here at Takeda truly helps patients. And it's important to bring others along on that journey."
Making an Impact on Patients
As the Vice President, Market Access and External Affairs, Rebecca helps the company create sustainable access to medicines for patients. At Takeda, it's about access for every patient "for the poor, for children, not just for people who can pay. This is the first time I've heard this from a pharmaceutical company and it makes me really proud," she says. "On my team and all across Takeda, we want to ensure that patients can access life-saving medicines." She truly believes that together, her team and colleagues are improving the patient experience and making patients' lives healthier.
On this Journey Together
Most importantly, Rebecca sees her leadership role as continuously helping to remove barriers for her team through support and empowerment. "As a leader, my role is to support my team in their individual careers and coach them to be successful," she says. "I am here to provide strategic guidance, so my team can deliver. This is how we can make the greatest impact on patients — by helping each other succeed for them."
For Rebecca the greatest impact she can have is by making an impact on her team. "If you're selling a medicine and you don't believe in it, that's a problem. You need to believe in it and it's not just important for me to believe … people pick up on the passion and belief, and it becomes contagious." It's crucial that Rebecca lets her passion and excitement for Takeda shine through. "I think what we offer here at Takeda truly helps patients. And it's important to bring others along on that journey."