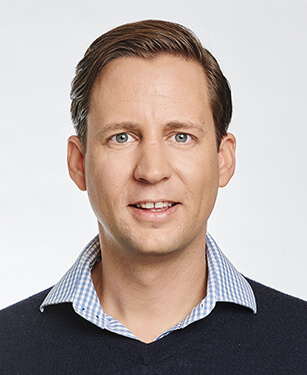 Oliver S.
Senior Manager, Global Commercial Forecasting & Analytics
Zurich, Switzerland
Employee Since 2017
Growing and Thriving While Making an Impact Globally
As someone who is passionate about a diverse range of topics, Oliver brings a unique educational background and work experience to Takeda. Holding an MSc in economic geography and media studies, and previous employment in the finance and pharmaceutical industries, his experience comes together as Senior Manager, Global Commercial Forecasting and Analytics for Takeda's Global Vaccine Business Unit.
Here, Oliver is responsible for developing the global commercial forecast across 50 countries for the dengue vaccine candidate, currently in its Phase 3 clinical trials. As a potential new product to market, it's purely inventive and innovative, which Oliver finds both exciting and rewarding.
Making an Impact on Global Public Health
Dengue fever is rarely found in the United States and Europe. However, it is endemic in Puerto Rico, Latin America, Africa, Southeast Asia, and the Pacific islands. While the burden of dengue is relatively small in more developed countries, Takeda is committed to bringing the vaccine to the people who need it most, not just those who have the financial means to afford it.
Oliver appreciates that Takeda is focused on and committed to developing vaccines that help people regardless of social status and purchasing power. He explains that the Global Vaccine Business Unit, despite being a commercially-driven organization, offers similar projects and responsibilities like working for a public health institution or non-government organization (NGO). "You're able to work for a pharmaceutical company that goes into public health. It's ideal and motivating to me."
In his role, Oliver can clearly see how he is directly contributing to Takeda's mission to bring Better Health and a Brighter Future to patients worldwide. "Our Vaccines team is responsible for a significant investment, and we're committed to delivering the product to the market," he explains. When asked what motivates him to do his best work, Oliver shares, "The potential impact you can have. Vaccines are means to prevent diseases and help people to not get sick." Today, there is an unmet medical need. The dengue vaccine -- if successful -- will have an immense direct effect on global health and millions of people may be vaccinated and hence better protected every year.
"I was looking for a place that I could stand behind. Takeda's patient-first Values, its mission, and Japanese heritage prove they're the right employer for me."
Patient-Centricity, Far and Wide
In his current role, Oliver also enjoys working with external partners such as Gavi, a public–private global health partnership committed to increasing access to immunization in poor countries. They share a vision to create equal vaccine access to children living in the world's poorest countries. Oliver explains what partnerships like this mean to him, "Takeda really wants to reach every patient and every person, independent of their purchasing power."
As someone who's worked for a variety of organizations in different industries, Oliver shares how Takeda's belief of putting patients first is unique and inspiring. "Before joining, I was looking for a company that gives me more satisfaction than just commercial value creation. I was looking for a place that I could be proud of. Takeda's patient-first values, its mission, and Japanese heritage prove they're the right employer for me. I feel valued and what was promised to me proved to be true."
Relationship-Building Through Collaboration
Working in a highly collaborative environment keeps Oliver connected with his colleagues and business partners around the world. "You're definitely encouraged to connect with colleagues globally." Collaboration at Takeda is different. "It's not as top down as in other companies. You get responsibilities in your position, which is a good thing. I partner with commercial, medical, regulatory, finance, and demand planning colleagues on a day-to-day basis. I personally think things are always kept transparent. Everyone who needs to be involved in making decisions has a seat at the table."
Oliver also mentions that Takeda has company-sponsored events during the workday, such as lunch and learns, and hosts sporting events and other after working hours gatherings. "There are various opportunities to connect, and at the end of the day, it's up to you to build your network."
As a part of Takeda Vaccines, Oliver has opportunities to work on other vaccine programs, extending his responsibilities and expertise. As programs evolve and new vaccines are developed, he has continuous opportunities to grow with the teams. "Takeda's long-term commitment and investment means there are long-term career opportunities. It's pretty special, and I'm happy to be a part of it."