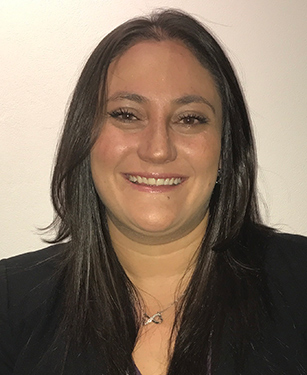 Maria H.
Gastroenterology Business Unit Manager, Emerging Markets
Mexico City, Mexico
Employee Since 2012
A Passion for People and Patients
When it comes to having a passion for people, Maria H. truly shines. "I love to work with people and understand their needs," she says. Whether it's understanding the needs of patients or her team, she brings people together to achieve their goals. As the Gastroenterology Business Unit Manager in Mexico, her team is comprised of marketing and sales professionals. Together, her team collaborates with colleagues in Medical Affairs, Regulatory Affairs, HR, Global Manufacturing and Supply, and other functions. What unites them all is their shared passion for patients.
"We work as a team and we try to help each other reach our objectives and goals. There is a lot of diversity here, and we respect one another's opinions and communicate what we need to achieve," says Maria. "Everyone gives their best effort and we always remember, we work for the patient. Our work brings better lives and we are all aligned on this," she adds.
Pride in Working for Patients
Maria began her Takeda career after working for several years at other pharmaceutical companies. She chose Takeda because she believes in the company's values and the focus on putting the patient first, and she knows that she can make meaningful contributions in the gastroenterology therapeutic area. In 2012, she joined as the Senior Product Manager on the Dexivant brand (dexlansoprazole) — a medicine used in the healing and relief of the symptoms of erosive esophagitis (an inflammation of the lining of the esophagus) and symptomatic non-erosive gastroesophageal reflux disease.
It was through this experience that she decided to learn more about sales. She applied internally and made the move from marketing to the sales team as a Regional Manager. One year on, she was promoted to Business Unit Manager. "I am proud to work here. Takeda is a gastroenterology leader in Mexico, and our reputation here and globally is very important. That's why all the decisions we make consider the patient first. But, we not only say this — we live this, we feel it."
"There is a lot of diversity here, and we respect one another's opinions and communicate what we need to achieve."
Taking the Lead on Educating Physicians
As an industry leader, Takeda demonstrates its commitment to patients by educating the medical community. The ERGE Forum is an annual event focused on the diagnosis and treatment of gastroesophageal reflux disease, or GERD (ERGE in Spanish). For two days, international and national key opinion leaders update and share the latest data with general physicians regarding patients with this condition.
It is an important event that provides opportunities and workshops, allowing doctors to better understand patient needs. "We make continuous efforts to educate general physicians who treat reflux. The knowledge we provide helps them focus on the primary care of their patients," Maria says.
There are other initiatives in gastroenterology that Takeda also supports. Each year, there is the National Gastroenterology Week hosted by the Asociación Mexicana de Gastroenterología (AMG). As a current sponsor, Maria and her team represent Takeda and are involved throughout the event. "We work together to update physicians through symposiums on GERD, nighttime GERD, and motility disorders. Another key project that Takeda is involved in includes working with the Gastroenterology Congress to better understand irritable bowel syndrome (IBS), a common, yet complex, disorder that affects the large intestine.
It's Takeda's unwavering commitment to putting patients first that truly motivates Maria.
Supporting the Lives of Parents
Outside of work, it's her children that keep Maria grounded. As a mother of two, Maria experiences how Takeda puts people first, both at work and in her personal life. "I have just returned from maternity leave, and have received a lot of support from my team and colleagues," she says. "There is a new policy at Takeda that you can have even more time (than Mexican law allows) to be at home with your baby. Few companies in Mexico have this type of benefit."
Additionally, leaders understand employees have lives outside of work. If something personal arises, they understand and provide options to work from home on these occasions. "This is another example of how we put people first. It reflects in our lives, too," adds Maria.