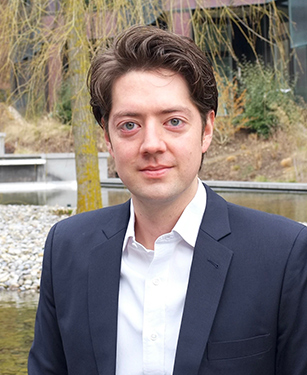 Kelly G.
Director, Global Strategic Operations and Portfolio Management
Vaccine Business Unit
Zurich, Switzerland
Employee Since 2013
From Japan to the United States
Throughout his career, Kelly G. has truly experienced Takeda's supportive and empowering culture. In the past five years, he has been promoted three times, transferred locations three times, and felt the support of his colleagues towards him and his family. Indebted and grateful, the next step in his Takeda career journey will lead him back to his home country, the United States.
Opportunity Knocked in Japan
After graduating with his Master's Degree in Tumor Biology from Georgetown University (USA), Kelly began his clinical research career and for several years, he worked for another pharmaceutical giant before choosing Takeda. In 2013, Kelly joined Takeda's Vaccine Business Unit (VBU) in Japan and was excited to help launch the vaccine business outside of Japan.
When he joined, he was one of the first to join the VBU, which at the time was in its second year of existence with the goal of globally expanding on the existing domestic-Japanese vaccine business. He leveraged his experience in global clinical development to develop ways of working, standard operating procedures, along with additional processes and governance that helped the VBU mature towards a more structured business culture. "I am half Japanese and spent my summers as a child in Japan with my grandmother. I always promised myself I would one day take the challenge to work in Japan. So, not only was the work exciting, but I had a very personal connection to Japan, too."
"Takeda isn't looking to develop vaccines that help a little — we continue to take big chances towards the eradication of some of the world's toughest diseases. I know my impact, and that motivates me every day."
Inspiring, Mission-Driven Impact
Kelly was drawn to Takeda's VBU because he knew his global business development background would have a strong impact on the company, and most importantly, on patients. Intellectually curious and with a desire to grow his own area of expertise, Kelly sees his role in the VBU as an opportunity to contribute to Takeda's mission of 'Better Health and a Brighter Future'. The global vaccine business is applying innovation to address some of the world's most challenging infectious diseases.
"The effort of Takeda to globalize the vaccine program is inspiring. We continue to invest in first-in-kind efforts and place a high priority on meeting the unmet needs in large segments of the world's population." The VBU is working on pivotal studies which are trying to address huge unmet medical needs, including Dengue, Zika, Norovirus and Polio. Initial data from the global Phase 3 Dengue efficacy trial, Takeda's largest clinical trial to date, is expected by the end of 2018. Additionally, Takeda's Zika vaccine is currently being studied in a Phase 1 trial (ZIK-101) under a U.S. Investigational New Drug application, funded by the U.S. Government through the Biomedical Advanced Research and Development Authority. If initial data from ZIK-101 is supportive, the company will work to progress into Phase 2 development.
Transformation Around the World
Takeda's transformation represents a complete shift of emphasis within the pharmaceutical industry. "We are not going for incremental value in the health system. We are making bold choices about our investments in research that are driven by being able to impact the global healthcare environment." This inspires Kelly (and so many other employees at Takeda) in the work he does and the choices his team makes in the global development of vaccine research.
"There is much gratification when you are working on vaccines that will help a greater number of people around the world," he shares. Kelly's business acumen and expertise helps the VBU grow and work more efficiently. He is empowered by his manager to present his ideas and run with them, thereby impacting the way the unit works.
Kelly's journey at Takeda has been career-defining. With excitement, he and his family will soon move to Boston, Massachusetts (USA) to start another chapter of his Takeda career. The support he has received — for his career and family — is beyond expectations. It has allowed him to reach new career heights by emphasizing growth across different locations around the world.