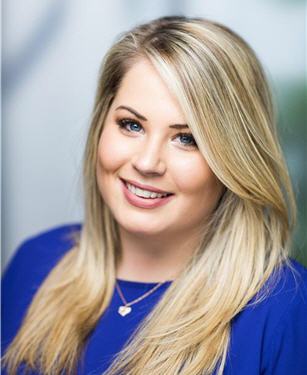 Holly C.
Meetings and Events Lead
London, UK
Employee Since 2018
Creating Experiences That Inspire Others
Hosting a successful event, let alone several simultaneously, takes skill, creativity, communication, and above all else, passion. As the meetings and events lead for Takeda across the United Kingdom and Ireland, Holly has a passion for events and thrives in the high-pressure, fast-paced environment. "My job is to organize events that inspire, educate, and upskill Takeda employees so we can do the best we can to better the lives of our patients."
Holly shares a glimpse inside her work at Takeda UK and the impact that it has on patients, her colleagues, and her life.
What is your role and what do you do on a day-to-day basis?
As part of the External Affairs team, I'm involved in planning engagement events for employees and campaigns such as the Annual Conference, Annual Founders Day, launches, roadshows, social events, town halls, and one-off special events. Currently, I am very focused on our Annual Conference, a three-day event for 350 employees in the UK and Ireland. This includes working closely with the general manager and senior management team to ensure that the meeting satisfies business objectives, and coordinating external stakeholders, such as the venue, production agency, and content and app agency.
I work on every detail—from travel arrangements to what the audience sees and hears on stage to evening events and team-building opportunities. My role is part of a larger planning committee and includes managing internal and external stakeholders and staying in close contact with production, app developers, venue management, and accommodations providers. It's about developing a theme and creating an experience and I work to ensure everything is aligned to the objectives of the meeting and the business.
When I plan events, I always try to provide opportunities for everyone to hear from the patient. For our employees, it's why they come to work every day and it's inspiring to hear directly from them—keeping everyone in the business focused on the patient voice and their journey. It's why we do what we do, to help improve the lives of patients.
When did you know Takeda was the right company for you?
I began as an employee of Shire, which was acquired by Takeda in January 2019. I'll be honest, at that time, there were uncertainties. Many people didn't quite know how their roles or responsibilities were going to change. When the new organizational structure was announced, I was put on a team I really clicked with and who welcomed me right away. At that point, I felt a lot more at home and settled, and I wanted to help other colleagues feel that sense of belonging too.
My job is about bringing people together and making them feel this is a place they can enjoy. I love my job, love my role, and love the events I do. To be able to do that, with people you enjoy, doesn't make you want to look elsewhere.
"My job is to organize events that inspire, educate, and upskill Takeda employees so we can do the best we can to better the lives of our patients."