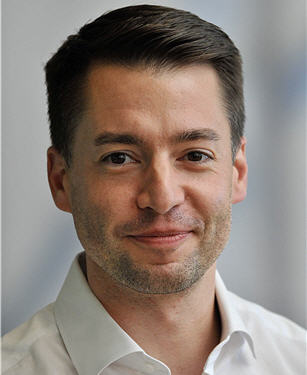 Christian D.
Business Unit Director, Genetic Diseases
London, UK
Employee Since 2014
Champion for Patients with Rare Metabolic Disorders
Working with rare metabolic disorders is a unique field; one that Christian describes as a real opportunity. However, his path to the pharmaceutical industry was rather untraditional. "I didn't start out carrying the bag," he shares, "but I had people willing to advocate for me and push me, and shape my thinking on what the possibilities were with the skills I had and how that could fit with what I wanted to achieve." With a background in science and experience consulting in the healthcare industry, Christian first joined Shire in 2014, which was acquired by Takeda in 2019. Today, his role is in support of rare metabolic disorders as the business unit director in the United Kingdom.
His work with rare metabolic disorders helps to ensure customers and patients get a good experience and optimal outcomes from the life-changing medicines they receive. For him, this work is different from other disease areas as the clinicians he interacts with typically look after patients for their entire lives, and often after a long diagnostic journey over many years. Supporting the clinicians throughout makes it very meaningful, "It's a privilege to work in a space with patients who have distinct needs, and offer diagnostic and treatment solutions as well as supplementary support for them."
In this role, Christian enjoys partnering with medical and patient organizations on the management of lysosomal storage disorders (LSDs). Takeda champions early diagnosis by educating doctors to more routinely identify patients with rare conditions and refer them for diagnostic testing. "This is something we are really proud of," he says, "and when there are often only one or two treatments—this is very meaningful. The faster we help someone get a true diagnosis of their underlying condition, the faster we can offer a treatment that can help them get back to living their life and improve their future outlook."
Often, Takeda's relationships with clinicians traverse early-phase research and discovery, clinical trials, bringing treatments to market, and tracking how our drugs perform in the real world. For Christian, this requires passion and an understanding of external stakeholders and the patient journey to create an impactful strategy. "At Takeda, we stop and ask, 'What is the right thing to do for the patient?' and this contributes to our reputation and how people feel about the business."
One project he's very proud of is a broad awareness campaign that's focused on the impact of rare diseases across the UK, affecting one in 17 people. The project, entitled I am number 17, highlights change-makers who share their stories of living with rare diseases and journeys from discovery and diagnosis to treatment and care.
For him, Takeda's strong pipeline of candidates provides encouragement for the future. "Through our pipeline, particularly in rare diseases, we can deliver better outcomes and more medicines for underserved customers and patients." In his eyes, everyone on his team has something to contribute to that mission and they share in the success of moving Takeda forward and helping patients realize a better future.
"The faster we help someone get a true diagnosis of their underlying condition, the faster we can offer a treatment that can help them get back to living their life and improve their future outlook."