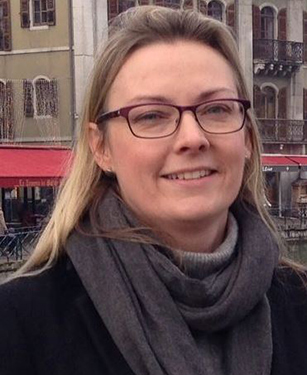 Bridget B.
Medical Manager, Oncology
Medical and Scientific Affairs
Ontario, Canada
Employee Since 2017
Feeling Empowered and Valued Every Day
Bridget was searching for an opportunity to do something new and different. When a former manager shared a story with her about his experience at Takeda and the transformation it was going through, Bridget didn't hesitate and applied. In 2017, she was hired as a Medical Manager specializing in oncology. While her previous biotech pharmaceutical experience was not directly related to oncology, her scientific acumen and expertise in regulatory affairs and medical communications brought a new perspective, creative problem-solving, and innovative ways to work smarter.
Your Voice Will Be Heard
"Takeda is transforming the way it works and is becoming more specialized. When you join the team, your expertise will be used and your perspectives are valued … from day one." All across Takeda, teams are taking huge strides by focusing on three core therapeutic areas: oncology, gastroenterology, and neuroscience, as well as developing life-saving vaccines.
As a member of the Oncology Business Unit in Canada, Bridget shares her medical expertise with other departments such as Market Access, Marketing, commercial teams, and other stakeholders. She advises her business unit on medical strategy, elevates Takeda to the scientific community, and brings ideas and initiatives to life. "I was hired for my experience and when I make a suggestion on a process or share a new idea, it is heard, valued, and accepted." Bridget speaks about feeling valued with great excitement, as this is something that makes Takeda different from her previous experiences. At Takeda, she not only feels respected and appreciated, but her perspectives are helping to shape the transformation of her entire business unit — and therefore she's making a direct impact on the health of patients all around the world.
"Takeda is transforming the way it works and is becoming more specialized. When you join the team, your expertise will be used and your perspectives are valued … from day one."
Finding Ways to Put Patients First
In oncology, there are unmet patient needs. According to the American Cancer Society, 'by 2030, the global burden is expected to grow to 21.7 million new cancer cases and 13 million cancer deaths simply due to the growth of an ageing population.' With so many different patients, cancers, and types of care, it is vital that Takeda continues to keep patients at the center of every program, action, and decision.
Finding true benefits for patients is what motivates Bridget and her team. By leveraging the expertise of colleagues, they are able to collaborate with physicians and the medical community to help them better understand treatment options for patients. "Takeda treats patients differently; we find ways to support and get patients access to therapy." A focus on patients, guided by our core Takeda values, along with a long-term strategic vision, guide the Oncology team in its work, each and every day.
An Individual Contributor Making a Huge Impact
Since she first started her career at Takeda, Bridget has been helping the transformation of the Oncology team. Recently, she participated in a training session with global colleagues. Afterwards, she was encouraged to become a trainer herself. This level of support and feedback empowers her to take charge of her own career and discover her full potential. "Takeda hires smart people and allows them to do their jobs and succeed. It is refreshing to know that your ideas matter and you will be heard."
On a daily basis, Bridget is guided by Takeda-ism (to act with Integrity, Fairness, Honesty, and Perseverance) and the company's four priorities (Patient, Trust, Reputation, and Business). Often she will ask herself these important questions: Are we doing the right thing to connect patients to treatments? Are we building trust with society? Are we making the right decisions on how we do our business here at Takeda?
While it may seem simple, these questions serve as constant reminders to put patients first, and continue to shape Bridget's success and Takeda's.