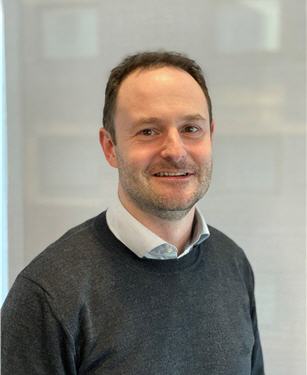 Brendan T.
Marketing Manager, Oncology
London, UK
Employee from 2008-10, and 2018-Present
Q & A With a Takeda Oncology Marketing Manager
Career journeys wind in different directions. Sometimes they bring us right back to the start. That is certainly the experience for Brendan who first began working at Takeda in 2008—only to leave and return 10 years later. At the encouragement of a great manager, he decided to pursue an outside opportunity, and when the possibility to return to Takeda presented itself, it was an easy decision.
Brendan shares a glimpse inside his work at Takeda UK and the impact that it has on patients, his colleagues, and his life.
What is your career journey with Takeda?
I joined Takeda in 2008 as a marketing executive. After a couple of years, I was feeling a little unsure about what I should do next. The head of marketing, at the time, advised that to progress, it may be best to leave and get outside experience. It was a real example, to me, of how to manage people while being completely selfless; he was looking out for me as an individual.
He pushed me. I loved working at Takeda at the time, but was at a place in my life and work, where I needed a different experience. As the business expanded, I got the opportunity to return to a job I love and he was still here. Not only do I like the people, I like the work, and I found a sense of purpose in my job that I never had before.
Today, I'm focused on the brands in my portfolio and meeting new challenges head-on. Through extensive project management, I'm able to adjust to the needs of national, regional, and global business while looking ahead and understanding the future of the healthcare environment—what it means to Takeda, to patients, and to clinical practice.
What's the most meaningful part of your job?
We were launching a new indication for a very rare disease and it was looking really promising but at the time, we couldn't get reimbursement from the National Health Service (NHS) for it. As a team, we worked tirelessly to ensure the NHS recognised the massive unmet need and positive impact that this new indication could have on patients and their families. We all had the patients' needs at the center of our efforts as we received a positive recommendation from the NHS.
It was because of this work we received letters from patients, often saying, 'you saved my life,' or 'you saved my father's life,' and one even shared, 'my father was able to come to my wedding.' When I read them—and I still read them—I get emotional. We don't advertise this part of our business; it's not about the headlines at Takeda, it's about doing the right thing. This was my first realization of what PTRB means. If you conduct business with good intentions, sometimes it comes back in a positive way.
How is Takeda different from other places you've worked?
Takeda truly invests in its people. There are always opportunities to learn more, shift what you're doing, work in a new location, or be flexible when you need to—a lot of small things that take into account people's lifestyles. As a manager, I'm always focused on the collective 'We,' my team.
As Takeda has grown in the United Kingdom from a small company to a large organization—a shift that tends to create silos at other businesses—we've continued to successfully work cross-functionally. Others say that, but we actually do. It's an informal approach and we get a lot of work done through personal interaction. These opportunities are a catalyst for understanding people and building relationships.
"It's not about the headlines at Takeda, it's about doing the right thing."